With the opening of the 21st-30th floors of the Golden Pyramid, new bosses Arara and Gorememphis are introduced to increase the difficulty of running the full Golden Pyramid.
This event also brings in a new Dandy Collection: the Graveyard King set; and a new weapon line: the Graveyard King Rod.
Limited Time Event
Edit
Initially released as a boss which can only be encountered between the stated period, Gorememphis is now locked as a weekend encounter.
Announcement BannerEdit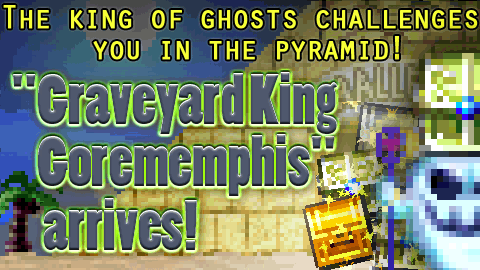 Event DetailsEdit
It's a Pyramid Challenge! You versus the Graveyard King!
"Graveyard King Gorememphis" is a superviolent new foe appearing in the Golden Pyramid!
Gorememphis will appear after 11F! He's waiting in there . . . somewhere! And new Dandy Collections are hidden in there as well! Man! It's time to say "Let's Go!!!" to the Golden Pyramid!!
And by the way -- beginning players will find that Gorememphis is, uh, quite a handful! If you happen upon him, you might not want to fight. You can just run away from him! Run right to the EXIT! That's a good idea!
He'll be hiding in the Pyramid between now and the 14th of June, so go get him while the getting of him is good!
In commemoration of this limited-time event, the Phantom Weapon Castle has some hot new stuff. Also, if you buy a "Super Pharaoh Buddy " from Mamazon.mom, you can enter the Golden Pyramid without needing any more Golden Keys or Golden Fragments! Wow, we'd love it if you looked at that deal and did the math and calculated exactly how good that deal is, because man, it's a good one!