Announcement Banner
Edit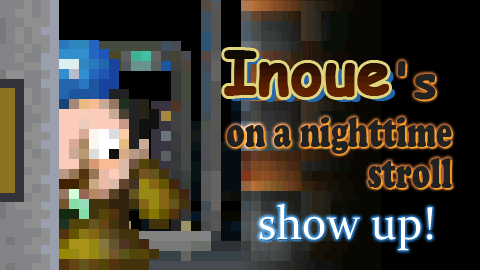 Event Details
Edit
Every Sunday between 7pm and Midnight!
Inoue, perpetual wanderer of Tokyo, will stop by Yamada-kun's room every Sunday night, if you're around. Please look forward to conversing with this particular guy!
(You'll have to have reached a certain point in the story before Inoue shows up in your game!)
What you get depends on how you respond to Inoue during the event.
1: Heyyyyy dudeeeee
Inoue! How you been! (Go to 2)
Inoue! Buddy, I'm real busy~ (Go to 2)
2: You need anything, friendo?
I need items! (Go to 3A)
I need dungeons! (Go to 3B)
I have too much gold! (Go to 3C)
3A: Guess what I got?
Healing medicine is good! (Get 2 Medicine)
I want attack magic! (Get 2 Thunderall Scrolls)
I want falcon magic! (Get 2 Falcon Scrolls)
Poison Powder, please! (Get 2 Poison Powder)
3B: Guess what I got?
I hope it's a King Sliamond Tower! (Get King Sliamond Tower LV1)
Dragon Castle please! (Get Legendary Dragonkeep LV1)
Garbi Desert, please! (Get Garbi Desert LV1)
3C: How much gold is too much?
0G (Get Iron Ore)
20,000G (Lose 20,000G, Get Gold Ore)
100,000G (Lose 100,000G, Get Diamond)
Force closing the application restarts the dialogue. This corrects any wrong choices made.
For 3A: Falcon is the only good choice in this category.
For 3B: Garbi is the most common share on Twitter, so look out for 5-star dungeon shares from Sunday to Monday.
For 3C: Gold ore seems to be the best value for money. Then again, a diamond never hurts. As of the Halloween Event, Diamonds can be obtained through regular means with the use of the skill Trick Ball DX.
A Legendary Dragonkeep dungeon spell is given despite being offered Dragon Castle's.